You may have missed it, but the California Supreme Court legalized gay marriage. The Chief Justice and 3 other judges decided that domestic partnerships are not a good enough substitute for marriage. The City Attorney arguing on behalf of San Francisco said, "Today the California Supreme Court took a giant leap to ensure that everybody — not just in the state of California, but throughout the country — will have equal treatment under the law." Of course, some people disagree with the court. So now there will be a state wide referendum in November on a constitutional amendment banning same-sex marriage. Polls over the last two years show the vote at neck and neck. The state already gives registered domestic partners the same rights and benefits as married spouses. Once again, I stand by my argument that the government should just get out of the marriage business!

Interestingly Cuba jumped on the Gay Parade recently as well. Mariela Castro (President Raul Castro's daughter) is currently attempting to get the Cuban National Assembly to adopt what would be among the most liberal gay and transsexual rights law in Latin America. Marriage is not part of the package, and Mariela explains this by saying, "In Cuba marriage is not as important as the family and at least this way we can guarantee the personal and inheritance rights of homosexuals and transsexuals." Cuba has a vibrant but generally discreet gay scene including a popular gay beach in Playas del Este. I'm not exactly sure what makes a beach gay, but then again I don't understand why people think the cigars down there are so amazing... perhaps its related?


In International News

Chavez rattled his saber when he warned Columbia not to allow a U.S. military base on its border with Venezuela. Should a base be put there, the Venezuelan government will revive an old territorial conflict and stake claim to the region known as La Guajira. Chavez said, "We will not allow the Colombian government to give La Guajira to the empire." Its nice to see that foreign nations are finally accepting the United States Empire, it should be outlined in the next edition of the Rand-McNally Atlas.

The Saudi's increased oil production, but President Bush says it's not enough . He asked Saudi King Abdullah for an injection of oil supply to help ease the pain, and said, "High energy prices are going to cause countries like mine to accelerate our move to alternative energy." Will this be seen as enough of a threat to the Saudi economy to open the taps? Probably not.

Mess in the Middle East


Days after Israel celebrated it's 60th anniversary, Palestinians marked the 60th anniversary of their uprooting with rallies, sirens and black balloons. Of course, the Palestinians have had an internal split for the last year... the Islamic militant group Hamas has ruled Gaza, while the West Bank is run by moderate Palestinian President Mahmoud Abbas. Abbas commented, "On this beloved land, there are two peoples, one that celebrates its independence and one that suffers its nakba." Does he mean the Palestinians and the Israeli's or the two Palestinians groups who are not on speaking terms?

There is some good news from the Middle East as Qatar held a interfaith dialogue involving Muslim, Christian and Jewish scholars. One attendee said, "For some it's their first chance ever to hear, not only an Israeli but to hear a Jewish rabbi speak ... And so one of my responses is trying to tell them the story of the Jewish people, which often they have not heard. The Holocaust." One Qataris preacher said, "This openness to other faiths creates confusion among our people and jeopardizes our identity." Who wants to bet that the real reason behind all of this is for Qatar to bolster its bid for the 2016 Olympics.

Meanwhile, Osama bin Laden says that al-Qaida will continue its holy war against Israel until Palestine is liberated. The tape said, "The Palestinian cause is the major issue for my (Islamic) nation. It was an important element in fueling me from the beginning and the 19 others with a great motive to fight for those subjected to injustice and the oppressed." However, he neglected to mention which faction should have control. The Israeli Foreign Ministry dismissed the message and said, "We do not relate or pay attention to the words of this terrorist lunatic." The U.S. Intelligence Community, however, is expected to spend a few million dollars to investigate the message.

Science in Our Lives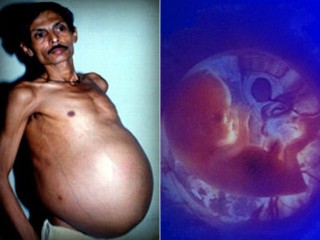 Ok, you are not going to believe this... but a 9-year-old girl who went to hospital in central Greece suffering from stomach pains was found to be carrying her embryonic twin. Yeah, crazy... I know! The embryo was a formed fetus with a head, hair and eyes, but no brain or umbilical cord. This isn't the first time such a thing has happened... check on the picture to the right! So once the um... "growth"... is removed... is this considered an abortion?